Kids Gracie Jiu Jitsu Classes in Bergen County

Beginner Kids Gracie Jiu Jitsu Classes Enrolling Now!
GRACIE JIU-JITSU CLASSES IGNITE THE CHAMPION IN YOUR CHILD!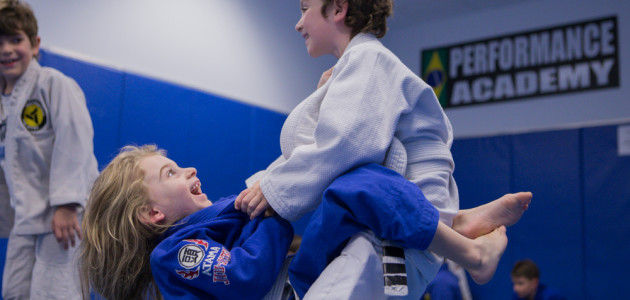 Your kids are going to fall in love with our kids Gracie Jiu-Jitsu programs at Performance Jiu-Jitsu! Our third-degree Black Belt master instructor and certified New Jersey educator, Professor Louis Vintaloro, has created the most impressive program of kids Jiu-Jitsu classes available! Can you imagine your kid(s) becoming stronger and more confident with our Bergen County BJJ?
Parents from all over the area have made Performance Jiu-Jitsu the school of choice, especially when it comes to giving their kids karate classes or martial arts classes. The reasoning for this is because Professor Vintaloro and his assistant instructors have years of experience in child education and teaching Jiu-Jitsu and the martial arts to kids of all ages.
Your child will get a solid foundation in Jiu-Jitsu and in martial arts, while getting a great workout and learning important self-defense skills. No child should be without self defense skills in today's world! Kids love our enthusiasm and we always make sure each and every kids karate class is packed with high-energy fun!
We've designed our kids Jiu-Jitsu program to suit your child's own abilities and nothing more. So whether your child has never taken kids martial arts classes before or your child has already earned a rainbow of belt colors, Performance Jiu-Jitsu has a program that's just perfect.
MARTIAL ARTS AND JIU JITSU CLASSES FOR KIDS AGE 5-13
Our kids Jiu-Jitsu program is perfect for any child age 5-13. Younger kids will enjoy rolling on the mats and interacting with kids their own age as they learn all the classic Jiu-Jitsu moves. Older kids will get a huge thrill out of mastering the art of grappling, ground fighting and submission holds that are all trademarks of the Gracie Jiu-Jitsu style!
With every new kids Jiu-Jitsu class, your child will enjoy all the benefits Jiu-Jitsu for kids has to offer, in a setting that's safe, clean and tons of fun! All the while, your child will be getting an amazing workout and developing the lifelong skills of a martial arts master. Just take a look: Your child's self-respect and self-confidence will skyrocket.
SET YOUR CHILD UP FOR SUCCESS WITH A FREE CLASS
Give your kids a break from the daily grind with a fun extracurricular activity—Gracie Jiu-Jitsu classes at Performance Jiu-Jitsu! We'll start your child down a path that will virtually guarantee their future success and get them excited about living an active, healthy lifestyle.
And here's the best part…We will even let your child try a kids Gracie Jiu Jitsu class for FREE!  Fill out the FREE TRIAL form just to your right (big blue box at the top right of the website) and we will get you all setup for your kids free class. 
Benefits
Your child's self-respect and self-confidence will skyrocket
Our Jiu-Jitsu classes give kids an appreciation of a healthy lifestyle
Your child will master the art of self control
Learn how to handle tough situations like bullies and peer-pressure
We preach character values of honesty, integrity, courtesy and respect
Your child will develop razor-sharp focus and unwavering concentration that leads to better grades